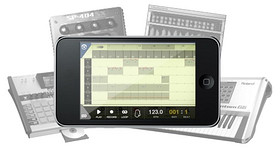 Sinevibes has announced the release of sound expansions for BeatMaker iPhone app.
In the past 40 years, music production has evolved enormously, and the latest great step in this evolution is the BeatMaker running on Apple's astonishing iPhone and iPod touch. What used to be available only to high-profile studios just a few decades ago can now fit into your pocket – never before making music was so amazing and so accessible. However, it's not only the technologies that allow people to bring their musical ideas to life anywhere they go: they obviously need high-quality and original sound materials to start with.

The BeatMaker Sound Expansions from Sinevibes deliver exactly that: a wide variety of fresh and unique instruments, loops and kits for modern electronic music styles. Now, you can instantly turn your mobile device into a full-blown, professional music workstation, with quick access to all sounds you need no matter when and where inspiration strikes.
Three sound expansions are available
Bass: includes analog and digital synth bass sounds. Contents: 25 multisampled instruments, 100 individual samples.
Rhythm: includes kicks, snares, claps, hats, drums, toms, shakers, hats, scratches, glitches, noises, lo-fi sounds, acoustic percussion, vocoder, special effects, etc. Contents: 18 rhythm kits, 20 loops, 204 individual samples.
Synth: includes synth sounds, bells, hits and chords. Contents: 10 multisampled instruments, 30 single sounds, 70 individual samples.
The BeatMaker sound expansions are available as a download in a bundle for $19 USD. Later on, they will also be available individually for $9 USD each. Future free upgrades with new sounds are planned.
More information: Sinevibes