SKYLIFE has introduced SampleRobot KORG Edition, a new product in the SampleRobot lineup.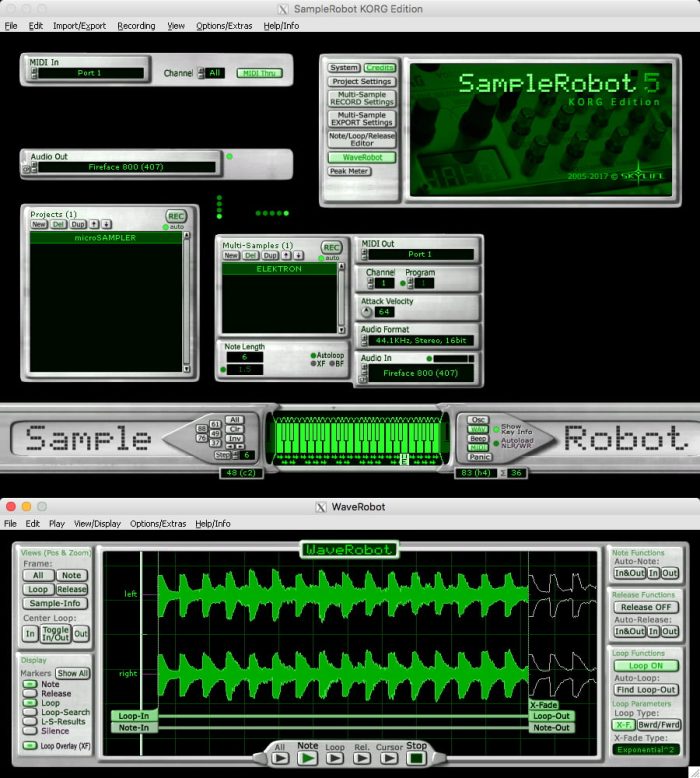 SampleRobot KORG Edition is SKYLIFE's most affordable software package for automatic multisampling and loop processing. It was created to work seamlessly with instruments from KORG like Volca Sample, microSAMPLER, Kronos, Pa4X and Oasys. Now it is very easy to feed those instruments with new sample sets and loops.

Musicians can create digital copies of favorite instruments and sounds with just a few mouse clicks. The SampleRobot KORG Edition also offers an additional Wav export. So even without KORG hardware the SampleRobot KORG Edition makes sense.

The SampleRobot KORG Edition is the successor of the discontinued SampleRobot Single-X / Volca-X product line.
The loop and transient editor WaveRobot can be fully integrated as an option and is recommended for users with advanced sampling skills.
New features of SampleRobot KORG Edition
Automatic multisampling and loop processing for KORG instruments + Wav export.
Multisample export for Korg Volca Sample

Dump up to 100 samples at once to Volca Sample.
Support for multiple bit and sampling resolutions.
Automatic high quality resampling for Volca Sample.
Save sample banks as Projects.
Sample bank function: Erase.
Sample bank function: Restore factory samples.
Flexible stereo-mono rendering.
Different loop export modes.

Multisample bank export for Korg microSAMPLER.
KMP/KSC/KSF multisample export for many Korg products from Trinity to Triton to Kronos and Pa4X.
Import and export of multiple WAV files.
Export Project for sharing and backup purposes.
WaveRobot 5 loop and transient editor as an option (supersize sample window for resolutions up to 3200 x 2000 pixels).
Automapping of imported wave files including various loop and mapping options under OS X.
Projects with up to 128 velocity layers.
Improved Mac OS X framework, compatible with OS 10.12 Sierra.
Adaption for Windows 10.
New graphical user interface.
New premium multisamples on board.
Many performance optimizations.
Includes 4 cross-platform installation licenses.
SampleRobot KORG Edition is available for purchase for $85 USD/79 EUR/£69 GBP.
A bundle with WaveRobot is $139 USD/129 EUR/£109 GBP.
More information: SampleRobot