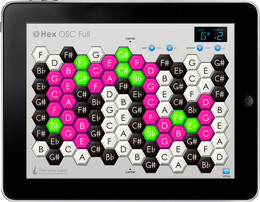 SkyLight has released Hex OSC Full, a virtual harmonic table keyboard for iPad.
Hex OSC Full is musical keyboard software for iPad, which has substantial 98 keys.

Besides, the keyboard layout can be changed in order to extend tone range by a single shake while you play. Hexagonal keys have certain note relationships like guitar chords. When you know the patterns, you can transpose smoothly.
Hex OSC Full features
Play with 98 keys (4 octave) on a screen without scroll.
Play a chord (3 notes) with one finger.
Play chords with up to 10 fingers.
Glissando.
Changeable tone range during performance.
Adjustable key layout.
Built-in 11 sounds; Synth1, Synth2, Tremolo Synth1, Electric Piano1, Organ1, Organ2, Funky Synth, Steelpan, Minimal Kit1, Bell1, Kokuritsu Kit.
Transmit OSC.
Transpose octaves when OSC is chosen.
Available languages: Japanese, English.
Hex OSC Full is available to purchase from the Apple iTunes App Store, priced at $15.99 USD.
More information: SkyLight Hex OSC Series