Slate Digital has announced Lustrous Plates, a new plugin that recreates the beautiful tone of seven classic plates reverbs using LiquidSonics' new Temporal Acoustic Spectral Mapping (TASM) technology.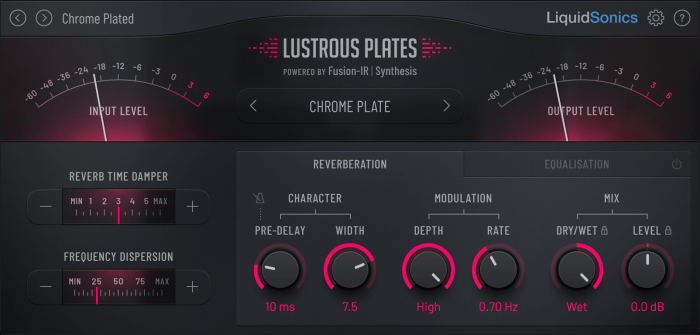 Similar to the Illusion reverb, Lustrous Plates is powered by Fusion-IR | Synthesis, offering a rich and luxurious contemporary plate design with seven distinctive models.
TASM uses a proprietary multi band dynamic capture and analysis method which allows a frequency specific profiling of the plate's natural decay, which is then mapped into an advanced reverb synthesis algorithm, so that it not only achieves the beautiful decay of real acoustic plates, but it also gains the benefit of having classic algorithmic reverb parameters which allow fine tuning in ways that you've never been able to with any other plate emulation.
Lustrous Plates will be available in Spring 2019 for $199 USD direct from LiquidSonics or via subscription as a part of Slate Digital's Everything Bundle.
Drum Gate
Also announced is the Slate Drum Gate, a noise gate effect plugin for drums.
The noise gate is one of the most essential tools in the pro audio arsenal, but there has been virtually zero advancements in gate plugins over the past decade. Until now. Enter the Slate Gate Series featuring two unique Gate plugins.

The first, which will be previewed at NAMM 2019, is the Drum Gate. With unique features such as advanced transient detection and a revolutionary de-bleeding algorithm, you'll get clean and easy results on even the most horrific tracks!
Overloud TH-U
Furthermore, the Overloud TH-U Slate Edition will be one of the biggest additions ever to the Slate Everything Bundle.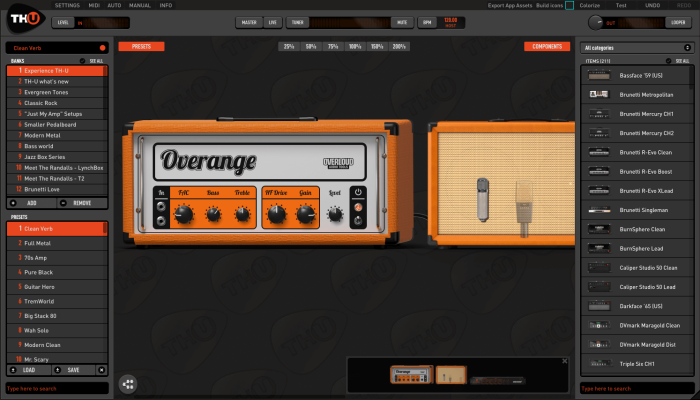 With TH-U, Everything Bundle members get over 100 modeled pieces, including 30+ guitar amps, 19 cabinet models, 33 effects modules and pedals, and 18 microphones.

But perhaps the biggest game-changing feature of TH-U is R2M which stands for "Rig 2 Model". R2M allows Overloud engineers to reproduce the famous amp profiles from one of the most popular hardware amp profiler. This means that TH-U's Rig Player can recreate entire amp rigs including the nonlinear and dynamic response of the amplifier, the cabinet, the microphones, the mic preamp and room sound.
Blackbird Mics for VMS
Slate Digital has also announced the release of the Blackbird Mics expansion pack for the Slate VMS (Virtual Microphone System).
John McBride's Blackbird Studios in Nashville, Tennessee is known for having one of the world's largest collections of recording gear, including 1,400 vintage and modern microphones. Recently, McBride personally hand-picked the five very best vintage tube mics for the Blackbird VMS expansion pack.

This pack features the 47 that George Massenburg called "the finest 47 I've ever heard," as well as a 251 serial #584 , which has previously been reserved exclusively for John's wife, recording artist Martina McBride. With the Blackbird VMS Expansion pack, VMS users will gain instant access to the exact tone of five of the very best vintage tube mics in the world!
VMS users can purchase Blackbird Mics for the intro price $99 USD for two weeks only (regular price $199 USD).
More information: Slate Digital