The Sonic Visualiser application for viewing and analyzing the contents of music audio files has been updated to version 3.2.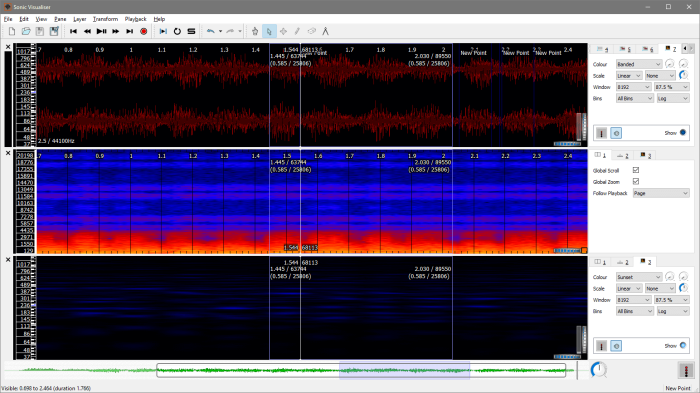 Developed by Chris Cannam of the Centre for Digital Music at Queen Mary, University of London (with some input from CHARM), this free program is a highly customisable playback and visualisation environment that includes such features as variable-speed playback, looping, and the ability to annotate the recording, for instance to identify specific points of reference; you can also use the annotation facility to tap to the beats and so generate tempo data which can be displayed on screen or exported to a spreadsheet program.

A particularly attractive feature is the ability to synchronise a number of recordings so that you can jump from one to the corresponding point in another. There is a range of built-in visualisations such as spectrograms, again highly customisable, but an essential strength of Sonic Visualiser is its ability to support third-party plugins: these offer a constantly expanding range of analytical facilities ranging from automated onset detection to pitch estimation and the capture of intensity data.
Changes in Sonic Visualiser v3.2
Add ability to zoom closer than one sample per pixel, so as to see the interpolated signal level between samples.
Add oversampling control to the spectrogram and spectrum layers.
Highlight and label frequency peaks in the spectrum as the mouse rolls over them, when enabled in the parameter area.
Add feature to convert and import audio from a CSV data file.
Add some new colour maps, and restore the old Blue on Black one.
Speed up spectrum rendering at high resolutions.
Fix failure to pass Nyquist bins correctly to frequency-domain-input Vamp plugins in some circumstances.
Fix sometimes incorrect shortcut associations for new-layer menu items.
Various other rendering improvements and bug fixes.
Sonic Visualiser is available as a free download for Windows, Mac OS X and Linux.
More information: Sonic Visualiser