Plugin Boutique has launched a sale on Sonivox Singles, offering discounts of over 70% off on the virtual instrument series for a limited time.
For a limited time only save over 70% off SONiVOX's singles at Plugin Boutique. Including Percussion, Drums , Piano, Guitar + more instruments.
The sale includes Atsia Percussion, Blue Jay Drums, Bright Electric Guitar, Classic Bass, FM Piano, Harmonica, Harpsichord, Session Drums 1, Silk Road Percussion, and Taylor Acoustic Guitar.
Also on sale is Vocalizer Pro, a MIDI controlled effect that offers vocoding, re-synthesis and signal processing from subtle to mind-blowing.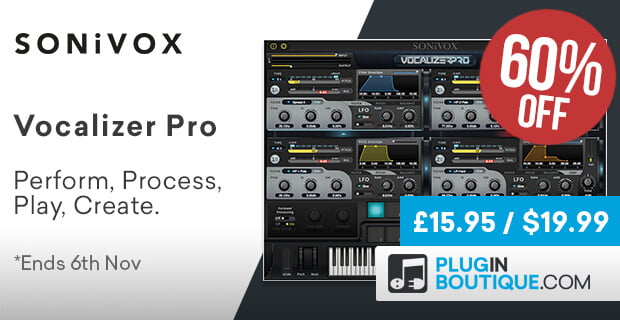 Part instrument, part processor, Vocalizer Pro is the ultimate instrument expansion tool. Offering endless sound-sculpting possibilities, Vocalizer Pro is ready to harmonize, modify, fortify, enhance, and re-synthesize any instrument—or any sound—in ways you never thought possible.

Two rows of MIDI-mappable pads provide unbelievable performance control. The top row saves snapshots of parameter settings, while the bottom row stores multi-note chords for expressive real-time interaction.
The sale ends November 7th, 2018.
More information: Sonivox