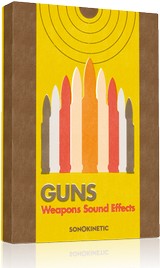 Sonokinetic has announced the release of GUNS, a weapons sound effects library in collaboration with Watson Wu Studio.
Sonokinetic & Watson Wu Studio (sound designer from activisions: "Transformers" & Codemasters:"Operations Flashpoint") joined forced with this new and powerful sound effects collection. A large variety of hand guns , semi-automatic and machine guns combined with a high quality weapons foley collection the "Guns SFX" from Sonokinetic will surprise you and take your imagination on the run.

You wont find more gun pow(d)er in any other collection. With a highly professional sound team and gun experts these 11 weapons are perfectly recorded with various microphone distances. The semi-automatic and machine guns are provided in a variety of length and speed of single shots and repetition bursts. The collection focuses on a clean and unedited sound effects pool to give the end user the most flexibility to master and manipulate the sound effects as possible. Besides this, "GUNS SFX" offers a 'processed'-folder with gun shots sound effects that are edited, manipulated and mastered for quick 'drag-and-drop' features that'll ask no audio mastering skills of the user what so ever. All sound effects are recorded in the highest possible wave format (24 bit , 96kHz) for maximum quality control.
Sonokinetic has established a name in user-friendly, very affordable, high quality audio and unique original sound effects. We push the limit to capture the depths of hand and machine gun with a wide selection of easy to use sound effects. Now, take cover and impress your clients!
Sonokinetic GUNS features
11 weapons (hand guns & semi-automatic/machine guns) one folder "Clean" (unedited) and a folder "Processed".
Total of 437 sound effects, 508 MB content.
Royalty and copyright free content license.
Recording session Photoshoot document (PDF).
Sonokinetic Guns is available to purchase for 29.90 EUR.
More information: Sonokinetic