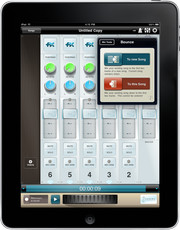 Sonoma Wire Works has announced the release of StudioTrack, a multitrack recording app for iPad.
StudioTrack is a powerful songwriting tool for musicians who want to capture musical ideas and record songs on the iPad. Every channel includes a reverb send and a configurable effects rack. Effect options include a delay, EQ, and a compressor. The master channel has a Reverb Return knob as well as a parametric EQ and a stereo master compressor-limiter.
StudioTrack for iPad features
Multitrack Recording – 8 tracks plus bounce.
Re-arrangable Tracks with FX Bypass, Reverb Send, Pan, Gain, Mute, Solo, Record Arm and Track Icon.
TrackFX – Tempo-synced Delay, Compressor, Parametric EQ and Reverb Send on every track.
Calibrated Meters – accurately monitor record and playback levels.
Calibrated Faders – accurately adjust playback level of each track for Cross-Fading, Muting, and Playback Control.
MasterFX – sweeten the sound of your recordings with a compressor-limiter and a 4-band parametric EQ.
Output Compressor-Limiter – automatically fattens sound of the output mix.
Master Channel with Reverb Return and Stereo Output meters.
Metronome – select tempo by number or tapping (includes pro drum recordings).
Bounce – mix song to track 1 and 2 of a new song to record as many tracks as you want.
Mix – Save the mix as a stereo file.
AudioPaste – – allows pasting audio from AudioCopy compatible apps like InstantDrummer and DopplerPad.
WiFi sync or mix individual tracks to a computer then import into any software that imports WAV files.
Slide-to-Record – prevents over-writing your tracks.
Latency Compensation – accurate to within 1ms.
Recording Quality – 16 bit, 44.1 kHz.
Supports both portrait and landscape iPad views.
StudioTrack for iPad is now available to purchase on iTunes for $39.99 USD.
More information: Sonoma Wire Works / StudioTrack