Sononym has announced the arrival of Sononym 1.0 for Windows, Linux and OSX.
The software represents an innovative approach to sample browsing, using machine learning to make personal sample collections searchable and discoverable.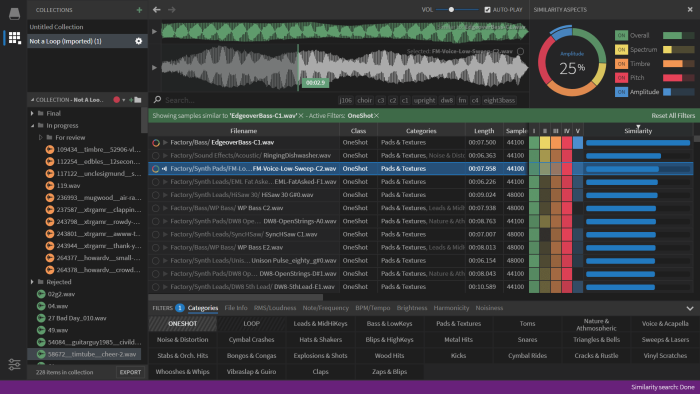 The primary innovation in Sononym is called "Similarity Search", a special search mode which accepts sound as the input, and finds relevant sounds throughout your sample collection. It's even possible to connect a synth, guitar or microphone and use this to locate samples by recording sounds on-the-fly.
In addition to this, the software offers many other features that you would expect from a modern sample browser: feature extraction (audio analysis), searchable and sortable file/results views, and a streamlined user interface.
Sononym 1.0 features
Deep audio analysis: extracts pitch, tempo, brightness etc. from samples.
Self-organizing content: Automatically groups samples into relevant categories, such as loops and oneshots, kicks or snares.
Similarity Search: A unique and powerful way to discover variations of any sound.
Live recording: Quickly and easily find samples based on any input sound.
Integrated bookmarking and export: Don't lose the creative flow while browsing.
Cross-platform: Sononym is available for Windows, Linux and OS X.
Sononym is available for purchase for 89 EUR, including VAT, or $99 USD for customers in the United States. A fully functional 30-day trial version can be downloaded from the Sononym website.
More information: Sononym