8Dio Productions has announced 66 Tubas, a new title in the Legion Series instrument line dedicated to solving specific needs in epic cinematic music.
The library brings the sounds of 66 Philharmonic tubas players from 13 countries across Europe.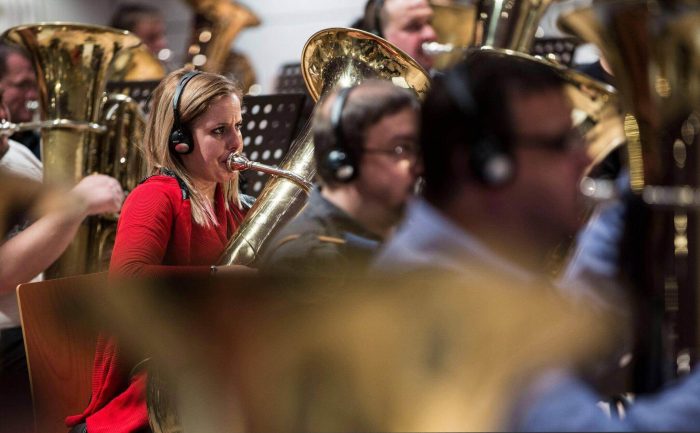 66-Tubas is all about professional cinematic Tuba. We gathered a 66-piece symphonic Tuba ensemble in our favourite modern recording hall, Zlin. The ensemble was created by uniting professional Tuba players from 13 different countries in Europe. A life-time opportunity and all the players gave it their absolute best in these sessions. It shows.

66-Tubas contains all common articulations (Sustains Types, Short Notes, Arcs, Effects, Note-Bends etc) and a large set of new articulations (Dynamic Waves, Tuning Clusters, BPM-based Ostinatos, Bridge FX etc).

The library features 10 different microphones, including a new Trailer Mix microphone that offers you the most upfront and aggressive microphone setting. 4 Hall-Based microphones (Mixed, Decca, Far and Wide) and 5 intimate close Spot microphones for more detailed sound.

66-Tubas also features a new 3D-rendered UI with a new 4-part modulation engine and a whole special section of BPM-based Ostinatos.

66-Tubas cost us over $82.000 to produce and is the second of several in our Legion series. It is the dream of super cinematic brass fulfilled. Strong, Warm and Deep.
66 Tubas features
Pro-grade Cinematic Super Brass.
True 66-Person Symphonic Tuba Ensemble.
10.120 Samples. 18.9GB HDD (compressed to 9.1GB).
66 Tubas Sustain Types, True Legato and Deep Short Notes.
66 Tubas Arcs, Marcatos, Bends, Tons of FX & Unique Arts.
4 Speciality Built SFX Pads for modulation + Chaos FX 3.4.
Mix, Decca, Wide, Far and Trailer Mix Microphone positions.
5 Close Spot Microphone positions.
All patches come with DFD, TM and TMPRO options.
Full Retail version of Kontakt 5.7 or later required.
15 In-House Custom Presets.
66 Tubas is on sale for the intro price of $148 USD until September 1st, 2018. The regular price is $248 USD.
More information: 8Dio Productions