Sound Dust has released Untopia, a sound library featuring 200 patches and 80 specially devised new sound sources for Omnisphere 2.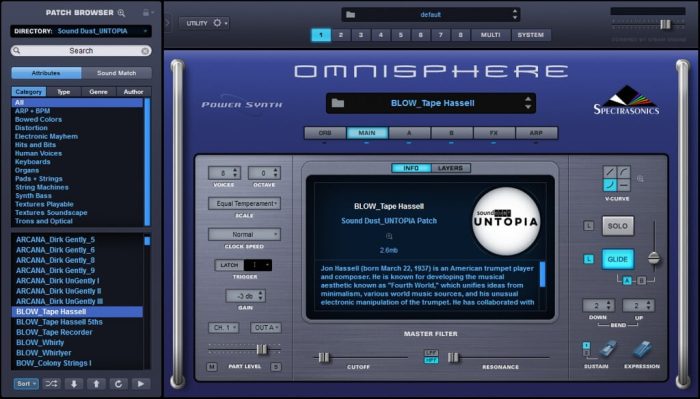 Untopia is born from a boisterous mix of influences. The darkly industrial but uplifting soundscapes created by Factory records producer Martin Hannett for Joy Division and A Certain Ratio are in there. So are the madly brilliant and brilliantly mad Christobal Tapia de Veer soundtracks for Utopia, National Treasure, the Girl with all the Gifts and Dirk Gently. All thrown around with a good measure of cosmic hippy wigout Terry Riley vibes, some Jon Hassell/Brian Eno Fourth World aesthetics and the grubby wonderment that makes Sound Dust, you know, Sound Dusty.

Expect strange disjointed and alluring voices, grainy strings, finely sculpted noisescapes, organic grit and grime, slurring mellotrons, drunken string machines, bent synths, amped keys turned to 11, low ebbing throbs and a healthy selection of other beatific cathedral of sound oddities.
Untopia is available for purchase for £35 GBP/$44 USD/40 EUR. An introductory 20% discount is offered until February 13th, 2017. Use coupon code UNTOPIAN at checkout.
More information: Sound Dust / Untopia