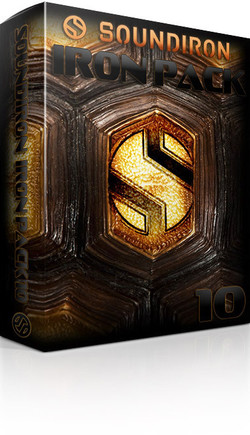 Soundiron has launched the 10th title in the Iron Pack series of sample libraries for Native Instruments Kontakt and sfz.
We went to the Austin Zoo & Sanctuary in Texas to record the mating calls of a pair of rare Galapagos Tortoises. Let's just say that these ancient reptiles can be surprisingly vocal in the act of consummating their love. Yes, mother nature is a mysterious and many-splendored thing indeed.
Iron Pack

We recorded actual tortoise mating vocalizations in great detail, yielding 4 dynamic layers with plenty of round-robin variations. We then edited and programmed it all into a playable "tuned" percussion set and looping sustains. You'll find a remarkable level of body and bass when pitched down, making it great fodder for creature sfx. But that's just where we got started. We live and breathe to find new sonic ideas and bend them into new sources of musical inspiration.

So next, we used our secret sound design techniques to resonate, stretch, warp and sculpt the raw source into an eclectic array of 33 unique, very useful and remarkably musical ambiences, atmospheric textures, drones and pads. They're perfect for soundscape creation, dramatic underscoring, layering and building inventive melodic instruments. We've included an easy yet powerful interface and room & fx impulse options to give you plenty of freedom. The is the largest Iron Pack yet, with 350 MB and 66 samples, all for the ridiculously low intro price of only $2.99!
Iron Pack #10 is available for purchase for $2.99 USD until December 2nd, 2014. Requires Kontakt 4.2.4 or later (full version) or an SFZ 2.0 compatible engine.