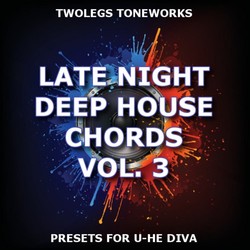 Sounds For Synth has introduced Late Night Deep House Chords Vol. 3, a soundset by Twolegs Toneworks featuring 208 presets for the Diva virtual analog synthesizer from u-he.
Continuing the popular series here's 'Late Night Deep House Chords Vol. 3 For Diva'. A collection of freshly programmed House chord stabs created for U-He's fantastic Diva synth. The soundset is aimed at the deeper sides of House, but can be used in just about any House or Techno genre that uses chord stabs.

This pack contains a broad variety of different chords with a total of 13 variations per sound, all suitable for the House and Techno genres. All the sounds are programmed carefully for playability and easy automation through the use of the modulation wheel on your MIDI controller keyboard.

This chord-collection is guaranteed to fit perfectly into your next Deep Techno, Garage and/or Soulful House track. Sounds are supplied in u-he Diva native preset format "h2p".

As an added bonus, all sounds used in the demo (except drums and percussions) are included in the set as bonus presets. There are basses, pads, a pluck and the ever so important noise swoosh.
The soundset is available from Sounds For Synth, priced at $24.94 USD.
Visit Sounds For Synth for more information.