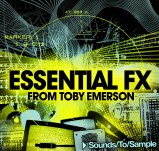 Sounds To Sample has released Essential FX Vol 1, a sound fx sample library by Toby Emerson.
Mighty sweeps, ring-mod falls, huge bombs, lazers, glitches, grime and more in this essential 650MB+ collection of effects from our in-house label.

You can never have too many effects to draw on, whatever genre of music you're making, and in this pack we commissioned Beatport chart regular Toby Emerson to make the definitive SFX collection of 460 all-new sounds.
Essential FX Vol 1 features
FX Falls — 85 long and short falls, including LFO rinsers, stereo fades, white-noise reducers and classic disco drops.
FX Risers — The big one! 120 long, medium and short falls, including ripping wind-risers, mighty pressure builders, jet power-ups and more, all primed to be slotted straight into the mix.
Lasers — 50 ripping nu-noise dives, ideal as beat components or fills.
Grime — 55 filthy glitches, crackles and twisted record noises.
Electro FX — Digital dirt, sonic sleaze and warped wobbles for unique beats and motif breaks.
Atmospheres — 30 bonus soundscapes, from the sublime to the industrial. Freaky space choirs and star-struck freakouts.Ideal noise sources for background atmospheres.
460 16-bit Wav one-shots in 7 folders. Download size: 652MB (unzipped), 515.9MB (zipped).
Essential FX Vol 1 is available to purchase for $32.95 USD.
More information: Sounds To Sample