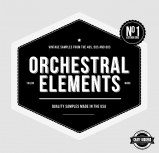 Sounds To Sample has released Orchestral Elements, a new sample library from Crate Diggers.
Scratchy ensembles, lush orchestras, string sections, brass and more in the third outing for Crate Diggers, featuring 210+ royalty-free phrases, solos and intros that will find use in hip hop, DnB, downtempo, classic and even house productions.

Pre tape, pre vinyl, and pre gramophone, cylinders were the original recording medium created by Thomas Edison.

This collection features a unique selection of orchestral elements.

212 clips are offered across 316MB of original material, broken into folders such as Brass, Harp, Intros, Outros, mixed Elements, Orchestral, Strings and Woodwinds.
Crate Diggers Orchestal Elements is available to purchase for 17.95 EUR.
More information: Sounds To Sample