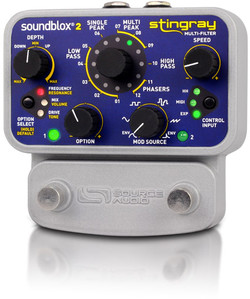 Source Audio has announced the release of the Soundblox 2 Stingray multi-filter pedal.
Since the introduction of the Hot Hand Wah back in 2006 and the Soundblox Bass Envelope Filter in 2011, Source Audio has built a reputation for making excellent filter effects with immense tonal range and superior envelope control. The Stingray carries on that tradition and adds some exciting features like new LFO wave shapes, onboard overdrive/fuzz, improved envelope response, external control options, and full MIDI capabilities. "Over the last ten years, no other effects company has been as deeply invested in all aspects of filter understanding and development as Source Audio" says company owner, Roger Smith, "Stingray is our ultimate creation and expression of beauty and depth."

The Stingray includes 12 diverse and finely crafted filter effects, including low pass, high pass, phaser, single peak, and multi-peak. Each filter brings its own unique character, from a resonant and aggressive Single Peak Filter, to smooth, vowel flavored Multi-Peak effects. The Stingray also contains an internal overdrive/fuzz circuit that adds an entirely new set of possibilities to the sound palette – users can blend a wide range of distortion levels with any of the filter effects, from moderate overdrive to extreme and aggressive fuzz.

"I truly think the potential of filter effects has been largely ignored by pedal builders," says Source Audio's Head of Engineering, Jesse Remignanti. "Traditional envelope filter pedals are very limited in the range of sounds you can get, but with the LFO waveform options and built in overdrive, the Stingray has a wealth of completely original tones, everything from basic wahs to ambient oscillating vocal sounds and beyond. This pedal really is a filter powerhouse."
Stingray Multi-Filter features
Diverse Sound Palette — Features 12 different Low Pass, High Pass, Band Pass, Single Peak, Multi-Peak, and Notch filters.
Onboard overdrive/fuzz that blends perfectly with any of the Stingray's filter effects. Drive tones range from warm and natural overdrive to extreme fuzz.
Control filter modulation with envelope follower, Tap Tempo LFO (sine, square, random sample-and-hold, or saw tooth), Hot Hand, or the Source Audio Dual Expression Pedal.
MIDI Capable — Use the Soundblox HUB for MIDI access to control parameters and save up to 128 user presets.
Deep Control Set — Access to control parameters typically found in only professional rack-mount effects, or computer software. Adjustable parameters include Modulation Depth, Filter Frequency, Resonance, Wet/Dry Mix, Overdrive, Overdrive EQ, Output Level and more.
State-of-the-Art DSP — Our proprietary 56-bit Digital Signal Processor, the SA601, and crystal clear 24-bit converters.
Two programmable user presets easily accessible via two dedicated footswitches.
Multi-Function Jacks — Use the Source Audio Hot Hand motion sensors, or Dual Expression Pedal, for on-the-fly control over modulation or any knob parameter.
Universal Bypass — Select either analog buffered or relay based True Bypass.
Compact, rugged, cast aluminum housing. Dimensions: L: 4.5 in./11.4cm x W: 4.5 in./11.4cm x H: 2.25 in./5.7cm (including knobs) 9V DC power supply included.
The Soundblox 2 Stingray Multi-Filter is available for MSRP $249 USD (street $169 USD).
More information: Source Audio