Source Audio has announced it will present 12 new products in support of the Neuro Effects System at NAMM 2015.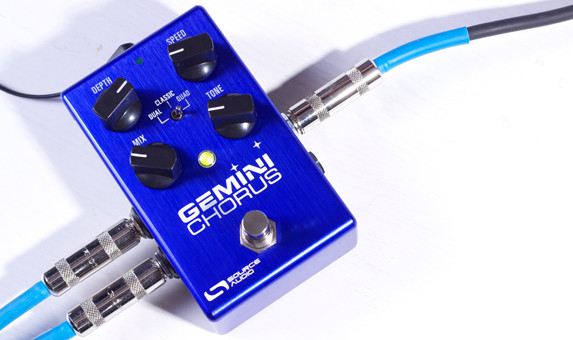 An astounding 12 new products from Source Audio will debut during Winter NAMM 2015 at the Anaheim Convention Center on January 22nd. Each of these new products are components of Source Audio's Neuro Effects System. The Neuro System is a series of stand-alone products that collectively comprise a fully integrated and programmable, MIDI controlled pedalboard, seamlessly bringing together vintage analog stomp boxes with state of the art Source Audio effects.

Between now and the start of the NAMM show, Source Audio will progressively unveil different components of the system, which includes new effect pedals, MIDI controllers, an expression pedal, and more.

The first product unveiled is the Gemini Chorus from the new "One Series" family of effect pedals. On the surface, the One Series are intuitive 4 knob pedals with a switch to select from three different styles effect – for example, the Gemini Chorus's three effects are classic (single), dual, and quad chorus. However, each One Series pedal also includes a USB port that allows users to enter the Neuro Effects Editor (a free download) for Mac/Windows. The Effects Editor also comes in the form of the Neuro App for iOS and Android through a clever use of the headphone jack. Both of these software solutions offer easy access to an extensive world of adjustable parameters and additional controls. The Neuro Effects Editor can be used to create distinct tones that are easily stored in the user's private library or shared with other One Series owners. More members of the One Series will be announced between now and NAMM.
More information: Source Audio