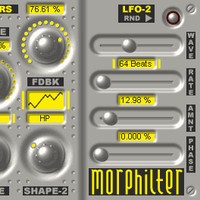 SPC Plugins has updated its Morphilter effect plug-in to version 1.2, which is now also available in VST and AU (32/64bit) for Mac OS X.
Morphilter is a stereo multi-mode filter with LFO-driven crossfading. Morphilter produces lowpass, notch, highpass and bandpass filter responses. It allows a continuous crossfade from one response to the next. This crossfade may be automated by an LFO. In addition, the cutoff frequencies of the left and right filters may be independently modulated by two further LFOs. All three LFOs may independently be locked to tempo or free-running.
Changes in Morphilter
GUI knobs default to linear operation.
Improved sound quality.
Boosted output level.
Smoothed modulation.
Revamped presets.
Many internal improvements.
Now uses username/authorisation code system.
Morphilter is available to purchase for $39 USD.
More information: SPC Plugins / Morphilter