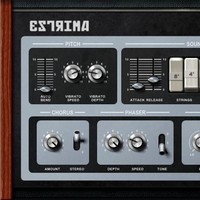 WOK has announced the release of Estrima, a virtual string machine instrument for Windows.
Liking this lush pad sound of the 60s/70s ? ESTRIMA is the little sister of our Cromina string machine. It creates this famous, swirling sound with a minimum of hassle. Also there is a choir voicing on board to treat you ears with this old "Aaahh"-sound ;-)

Unlike our big Cromina, it does not have the full polyphonic octave divider simulation, but a simplified phase lock for the 20 voices to reduce CPU load. There is a paraphonic envelope simulation too.

Also on board is a 3x chorus and a deep phaser. The waveform-shape of strings and choir can be varied to achieve the sound of different vintage machines. Auto pitch-bend (for the choir) and vibrato complete this straightforward little toy.
Estrima for Windows (VST) is available to purchase for the "Spring-2013-Maya-fail" introductory price of 9.87 EUR.
More information: WOK