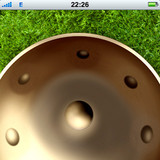 Sphere It has released PanDrum, a virtual Hang Drum for iPhone/iPod Touch.
The Hang Drum is a unique harmonically tuned steel percussion instrument, developed in 2000 in Berne, Switzerland.

This application is a realistic copy of Second Generation Hang Drum which creates a beautiful meditative sound that puts you in a peaceful state of mind.
PanDrum features
8 basic notes
7 kicks
High quality sounds
Multi-touch for chords
Glow on touch
Every sound has 3 random variaions
The scale of the notes: D3 Ding, A3, Bb3, C4, D4, E4, F4, A4
Custom background
PanDrum is available to purchase from the iTunes App Store for $1.99 USD. A LITE version of PanDrum is available to download.