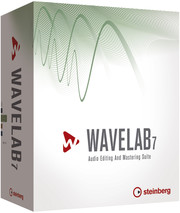 Steinberg has announced the release of WaveLab 7, an audio editing and mastering suite for Windows and Mac.
Adding new facilities to its previous versions for Windows, the seventh version now also sets a benchmark for audio editing and mastering under Mac OS X.

Its feature list includes the revamped graphical user interface which provides eminently convenient handling of audio material across multiple windows, montages and podcasts with an intelligent docking and scaling system. Brand-new VST3 plug-ins and restoration tools, the new, future-proof burning engine and its flexible multiprocessing capabilities are further highlights.
WaveLab 7 features
Industry-acclaimed tools for mastering, audio editing and restoration.
Powerful audio analyzing and metering tools.
Flexible and intuitive session and window management concept.
High-end restoration suite from plug-in specialists Sonnox.
First-rate collection of VST3 plug-ins, including StudioEQ and Post Filter.
Extensive batch processing functions.
Audio Montage for simultaneous editing across several tracks.
Professional burning engine with DDP format support.
DIRAC 2.2 time-stretching and pitch-shifting algorithms.
WaveLab 7 is available as boxed version in the Steinberg Online Shop and from authorized Steinberg resellers for 599 EUR / £497 GBP. The stripped-down version, WaveLab Elements 7, is available as boxed and download version for 99 EUR / £82 GBP.