Submersible Music has announced it is now shipping DrumCore 3, a drum instrument which combines audio loops and MIDI for versatility and authenticity.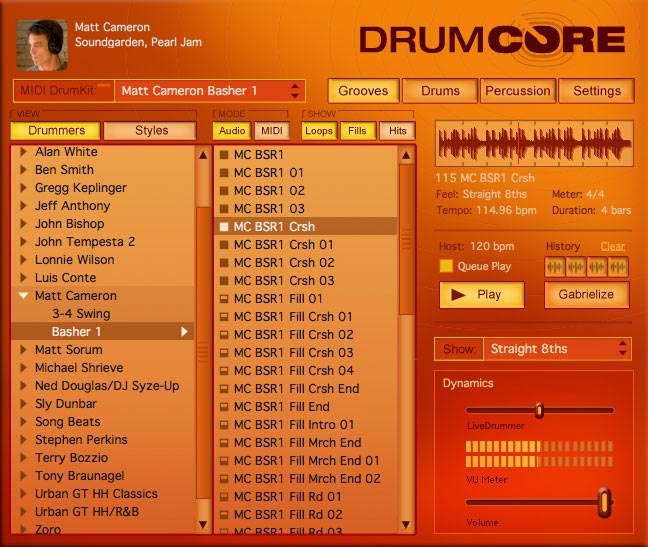 DrumCore 3 sports a new "Sunburst Finish" user interface, over twice as much content and is now a plug-in! DrumCore gives songwriters and composers access to grooves and instrument sounds of over a dozen famous drummers and percussionists. It includes a library of both audio loops and MIDI grooves plus a software drum instrument for Mac® and PC. DrumCore covers a multitude of styles – including rock, blues, country, metal, prog, alt-rock, pop, jazz, urban, funk, Latin, reggae and others.
Changes in DrumCore 3
New "Sunburst Finish" Interface — DrumCore v3 features a new "sunburst" user interface with a number of enhancements. Now it's even easier to search and audition the vast number of grooves in DrumCore using List View in the updated Groove Browser. Creating more authentic drum parts is easier as content is arranged into song-like GrooveSets, that group related loops, fills and variations together. New v3 content features a larger number of intros and endings in addition to the usual verse/chorus variations. It supports searching via metadata that includes drummer, musical style and "Feel" including shuffle, swing, 1/8th, 1/16th, etc. Drag and drop export of audio and MIDI to a track is supported with all popular music/recording applications (including Acid®, Cubase®, DP®, GarageBand, Live™, Logic, Pro Tools®, Reaper, Sonar®, Traction®, etc.).
Vastly Expanded "Basic Beats", Urban and Jazz Sections — A huge selection of bread-and-butter songwriting beats have been added plus expanded jazz content featuring Seattle jazz drummer Gregg Keplinger (http://www.greggkeplinger.com). Submersible's popular "Urban GT" expansion pack ($49 value) is now included, which features classic hip-hop and modern R&B MIDI grooves plus 24 subwoofer-slammin' drumkits.
Matt Cameron (Soundgarden), John Tempesta (Testament) and Stephen Perkins (Jane's Addiction) Content — Included with v3 are drumkits and grooves from Seattle rock/alternative legend Matt Cameron (Soundgarden, Pearl Jam), all of the TempestaPack II expansion pack ($79 value) featuring smoldering metal drummer John Tempesta (Rob Zombie, Testament, Helmet) and new grooves by Jane's Addiction drummer Stephen Perkins.
"LiveDrummer" Technology — The LiveDrummer DrumCore 3 MIDI engine enhancements provide greater realism for drum rolls and cymbal performances. Tired of "machine gun" playback? Grab the LiveDrummer slider and get more dynamics into your groove!
RTAS/AU/VSTi Compatible — DrumCore v3 is now a plug-in for easier integration with all the popular recording applications.
DrumCore Toolkit — DrumCore Toolkit is a standalone application that can be used for importing your audio and MIDI loop libraries as well as for building drumkits using WAV or AIFF files. It is also great jamming with the grooves in DrumCore or for using live with a controller.
Drummers — DrumCore includes content by these great drummers: Ben Smith (Heart), John Bishop (Ernie Watts), Terry Bozzio (Jeff Beck, Zappa). Matt Sorum (Velvet Revolver), Tony Braunagel (Bonnie Raitt), Ned Douglas (Dave Stewart,), Sly Dunbar (Bob Marley), Michael Shrieve (Santana), Alan White (John Lennon, Yes), Matt Cameron (Soundgarden, Pearl Jam), John Tempesta (Rob Zombie), Stephen Perkins (Jane's Addiction), Lonnie Wilson (Brooks & Dunn, Rascal Flatts), Luis Conte (Clapton, Sergio Mendes) Zoro (Lenny Kravitz) and others. Even more drummer content is available via "DrummerPack" expansion libraries.
DrumCore 3 is available for $249 USD (The current DrumCore version costs $199 USD, the upgrade to DrumCore 3 is $50 USD).
Visit Submersible Music for more information and audio demos.