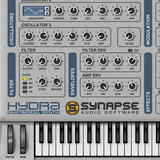 Synapse Audio has announced a June Special for Hydra, a multi-model synthesizer designed for use in all genres of electronic music.
The Hydra is a highly versatile synth, capable of anything from huge, beautiful stereo pads to vivid leads and violent sub basses, and even synthetic drum sounds.
Hydra features
The oscillator routing can be switched between three radically different models, which is almost like having three different synthesizers in one – each model has it's own distinct character and sonic capabilities.
The logical organization of the user interface makes it easy to maintain a good overview of the high number of parameters, and design your own original sounds.
The online help system provides detailed information about every parameter.
Two of the three oscillators have 39 preset waveforms, and can be individually saturated. Envelopes can be switched to percussive mode, turning the instrument into an extremely versatile drum sound synthesizer.
A number of effects are built in: a chorus/delay effect with a tempo sync option, a special bass expansion unit for solid sub basses, and a roaring distortion effect.
It comes with a library of 150 useful and imaginative presets, including house/club style organs, bells and percussions, basses, subtle ambient atmospheres, powerful leads and rich stereo pads.
For the period of one month, the Hydra VSTi for Windows and Mac OS X will be available for $49 USD / 39 EUR instead of the regular price of $59 USD / 49 EUR. The offer expires on June 30th, 2010.
More information: Synapse Audio