TBProAudio has announced the release of an update to the dpMeter free metering audio plugin. Version 5.0 now uses a new graphics backend for smoother GUI scaling and some minor bug fixes.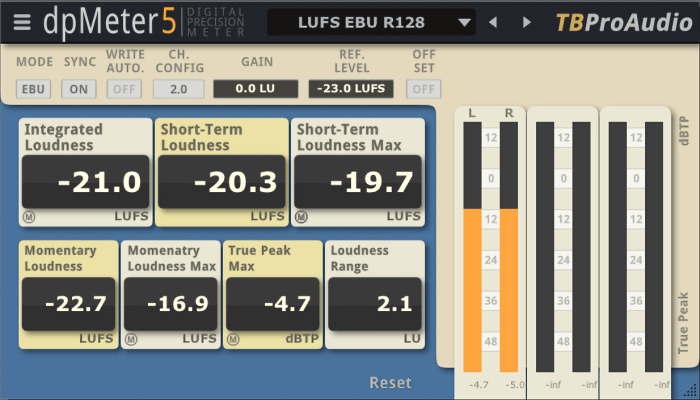 dpMeter5 is a precise digital audio multi channel meter including RMS, EBU R 128, Dialog gated and TruePeak (intersample) measurement.

It is the successor of the very popular dpMeter4 and adds GUI resizing and preset management.
dpMeter v5.0 features
Click-free 64-bit internal processing.
Measurement modes: RMS/EBU R128/DIAL.
Multi channel metering: 2-6 RMS channels, 2.0 stereo, 4.0, 4.1 and 5.1 surround.
RMS: integrated, momentary, peak and true peak, Crest.
EBU R128: IL, SL, ML, true pack and loudness range.
DIAL (dialog gated): IL (dialog gated), SL, dialog proportion, loudness range (dialog gated), loudness range, true peak.
True peak measurement based on ITU BS.1770-4.
K/A/B/C/M-weighting filter.
Continuous/synced measurement.
Record metering results as automation data.
Large and accurate live meters.
Adjustable pre-gain.
Manual loudness/peak/TP match with given reference level.
Loudness offset mode.
GUI scale.
Preset management.
The plugin is a free download for Windows and Mac in VST/VST3, AU and AAX formats.
More information: TBProAudio