TBProAudio has released an update to its DSEQ dynamic spectral equalizer effect plugin which removes digital harshness on the fly with self-adjusting frequency bands.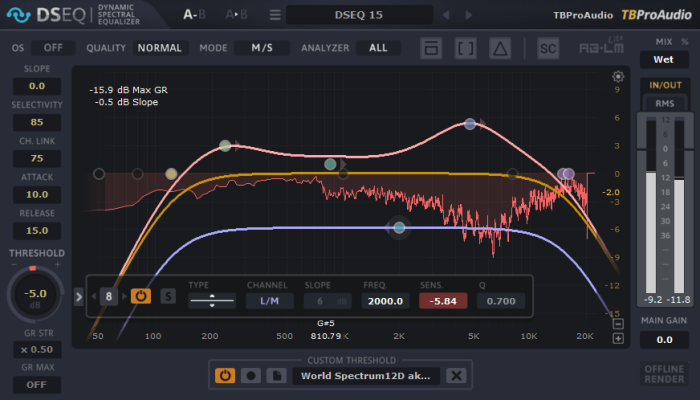 Version 1.5 supports custom threshold, which turns DSEQ into a smart multiband compressor.
DSEQ works fully in the frequency domain, providing very high frequency selectivity thanks to self-adjusting dynamic equalizers. DSEQ does its job with highest transparency even pushed hard. This avoids distortion, phasing and artefacts even with very critical sound material. And DSEQ offers several quality modes taming even singular frequencies.

On top DSEQ provides a very easy to use interface. With just a few parameters (threshold, selectivity and attack/release) a broad range of applications can be covered. Even the initial parameter set could make your mix more transparent. Just pick the threshold parameter and lower it step by step. From there you can start focusing on specific frequency regions by using the pre-filters.
Changes in DSEQ v1.5
Custom threshold, turns DSEQ into a smart multi-band compressor.
Continuous spectrum slope calculation.
Bypass now skips main gain.
Larger controls for GR Strength and GR max.
Finer control of GR strength.
Decreased main gain control sensitivity.
New presets.
Improved MAC GUI performance.
Improved WIN GUI performance.
Improved drawing of filter response curve.
Fix graphic issues in Digital Performer.
Fix Ableton off-line render behaviour.
Fix GFX glitch when using pre-filter with high slope/q setting.
DSEQ is available in VST/VST3, AU, RTAS and AAX formats, priced 79 EUR ex. VAT where applicable. The update is free for all licensed users of DSEQ.
More information: TBProAudio