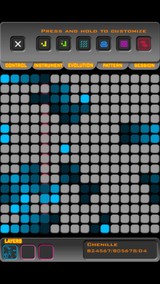 Team Popo has released version 2.0 of BeatEvolve, a music app for iOS.
Anyone can make music with BeatEvolve! With 32 instruments to choose from, the intuitive interface lets you combine 3 layers of harmonies to create awesome riffs!

Select from one of six preset evolution rules or create your own from scratch then sit back and watch as the music changes all by itself.
Changes in BeatEvolve v2.0
Vastly Improved Audio – every instrument has been rerecorded from scratch to give you the best possible experience.
Drum Kit – this has been added as a new percussion instrument. The 16 drum beats include a variety of drums and cymbals to use with the rest of your musical composition.
The app is available to purchase for $2.99 USD.
More information: Team Popo