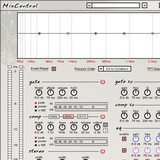 TeamDNR has released version 1.0r4 of MixControl, a complete mixing package for Windows and Mac.
MixControl is a high quality, flexible and full featured channelstrip plug-in with a variety of essential mixing tools, all at a fraction of the CPU load of other leading channelstrip options.
Changes in MixControl v1.0r4
Mac OSX VST3 version.
Win x64 version.
New skins included.
Fixed: Compressor SC Tooltip was overlapping.
Fixed: EQ value text was displaying purple.
Fixed: A/B function was not copying stereo tool.
Fixed: Drop down menu was breaking up with long names.
MixControl is available to purchase for $79 USD.