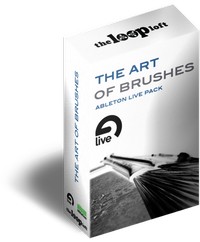 The Loop Loft has released an Ableton Live Pack version of The Art of Brushes, a collection of drum loops.
We're proud to announce our first Ableton Live Pack – "The Art of Brushes". Taking one of our most popular collections of loops and samples, we meticulously customized every aspect to integrate seamlessly inside of Ableton Live. We produced a complete series of Live Sessions that will instantly get you up and running with a variety of drum grooves and fills. We also supplied hundreds of clips, giving you endless options of loops and transitions. The drums racks consist of samples taken directly from the loop sessions, providing the ability to create your own beats from scratch or utilize MIDI grooves, while keeping the sonic characteristics consistent with the original loops.

With styles ranging from funk, jazz, folk, ambient and rock, The Art of Brushes Live Pack will provide you with the grooves, sounds, flexibility and inspiration you need to push the envelope inside of Ableton.
The Art of Brushes – Ableton Live Pack features
205 Clips
4 Drum Racks
8 Live Sessions
5 ReDrum Patches
High Quality, 24-bit 48 khz Audio
File size: 243 MB
The Art of Brushes – Ableton Live Pack is available to purchase for $39 USD.
More information: The Loop Loft