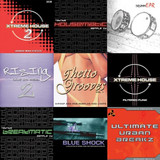 Time+Space has announced a special Anniversary Offer for 9 Tekniks products.
Nine years ago, before the days when budding entrepreneurs approached the Dragon's Den, Damien Egan founded his own company with the help of a £500 business grant from the Prince's Trust.

What was supposed to be a recording studio/label quickly turned into Tekniks – a company providing niche products for producers and composers. Following the success of their first release Underground Garage, Tekniks soon became one of the world's leading providers of Urban based loops and samples with top selling titles such as Rizing DnB, The Ghetto Grooves Series and Breakmatic.

To celebrate it's 9th Anniversary, Tekniks is offering 9 products for £9.99 each for 9 weeks from the 9th September 2009. This exclusive offer could save you up to £34.00 per title!
The 9 products included in this offer are: Ghetto Grooves 1, Housematic, Xtreme House 1 & 2, Blue Shock, DrummEAR, Breakmatic, Rizing DnB 2, and Ultimate Urban Breakz. These titles are also available in a special anniversary bundle for £59.99 GBP (saving over £200 GBP).
This offer ends 11 November, 2009.
More information: Time+Space