Tone Projects has announced the release of a new audio plugin designed to deliver perfect low-end stereo and unique bass enhancement.
Basslane Pro aims to be the definitive tool for controlling low-end stereo width and crafting impactful bass that translates across formats and playback systems. Built in collaboration with Flotown Mastering, Basslane Pro combines transparent manipulation of stereo width with novel solutions to preserve musical content that would otherwise be lost when summed to mono. With uses far beyond mono'ing,
The plugin offers refined ways to enhance width, punch, and low-end richness. The unique Stereo Harmonics feature allows you to inject upper bass harmonics to add definition and controlled low-end width without problematic stereo information in the subs. The easy-to-use multiband dynamics, powered by Tone Projects' acclaimed Unisum compressor, makes it effortless to tame unruly transients or enhance low-end punch and tightness.
"This thing is awesome! Really enjoying using it on both vinyl cuts and other mastering operations – the bass is huge but still controlled and punchy." – Matt Colton, Metropolis Mastering London (Arctic Monkeys, Muse, Dua Lipa, Ellie Goulding, James Blake)
Basslane Pro for Windows and Mac (VST3, AU and AAX) is on sale for the introductory price of $99 USD until November 30th, 2022 (regular $129 USD). A free trial version available to download.
Additionally, the free Basslane has been updated with support for both Windows and Mac (with native Apple Silicon support). The update also introduces a new user interface along with new features.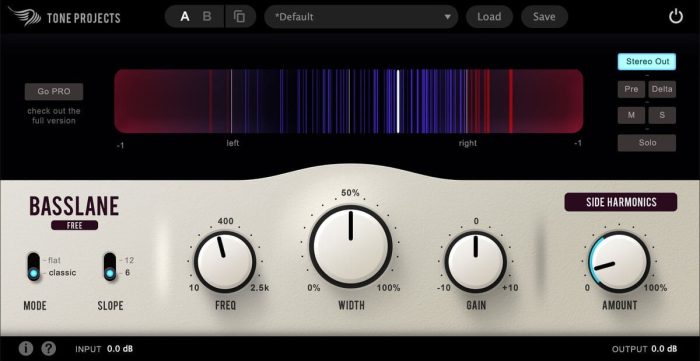 The unique Side Harmonics feature adopted from Basslane Pro adds upper harmonics to the side channel based on the mono'ed low-end. This allows you to create stereo width that is musically related to the bass without adding problematic stereo in the subs. The updated user interface provides helpful stereo balance and correlation metering.
More information: Tone Projects