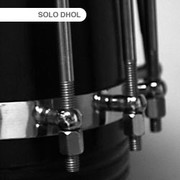 Tonehammer has released Solo Dhol, the complimentary follow up to the Epic Dhol, which covered hall based ensemble Dhol.
The Solo Dhol contains over 5.100 samples and +100 different articulations, including sticks, mallets, brushes, hands/fingers, bass bends and so forth. We deep sampled two professional Dhol Drums for this library, which each had distinct characteristics.

For our Solo Dhol library, we captured a pair of full-sized drums, one larger and one smaller. These are two of the same drums we also used in our Epic Dhol wet hall ensemble library. These drums have animal hide bass heads (called "dagga") and maylar treble heads (called "thili"). They dagga sides are tuned with a single heavy nylon rope, wounded around the drum through steel rings. The thili heads are tuned with a series of steel lugs and rods, typical of most modern percussion.
Solo Dhol features
2 professional Dhol drums recorded in dry studio environment.
Up to 14 velocity layers per articulation
10 round-robin variations on all velocity layers
Thili (snare) strikes with bamboo sticks, bone mallets, brushes and finger/hands.
Dagga (bass) strikes with cane wood sticks, bone mallets, felt mallets, brushes and fingers/hands
Tablas-style Bass bends, 39 articulations from slow to fast, with 10X RR
Core articulations: Dhol Master (contains all patches), Dhol Bass Bends, Dhol Bass Felt, Dhol Bass Hands, Dhol Bass Mallets, Dhol Combo Bone Mallets, Dhol Combo Brushes, Dhol Combo Mallets, Dhol Combo Traditional Sticks, Dhol Snare Hands, Dhol Snare Mallets.
Bonus: Custom Convolution Reverb Impulses
Bonus: Custom Articulation and performance controls
Bonus: Lite versions of all core patches
Extensive read me (.pdf) install, patch and hint documentation
60 Kontakt patches, including one patch with everything / 5.150 samples
1.35 GB installed, 792 MB .rar download
Sample resolution: 44.1Khz / 24Bit stereo .wav format
Format(s): Kontakt and .wav
Note: Native Instruments Kontakt 3 / 4 full retail versions required for all Kontakt instruments.
Note: Free Kontakt Player will only work for 30 minutes with this product. Full version required to remove this restriction.
Solo Dhol is available to purchase for the introductory price of $79 USD until 5 February, 2010 (regular price $89 USD). Note: Epic Dhol is currently on sale for $79 USD until 5 February, 2010 (regular price $99 USD).
More information: Tonehammer