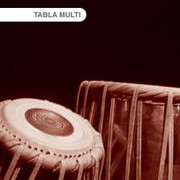 Tonehammer has released Tabla Vol. 2 "Multi", the most comprehensive multi-sampled Tabla in the history of sampling.
Our goal with this collection was to capture a extraordinarily comprehensive range of tabla articulations, designed to provide the most realistic, high-fidelity, playable and dynamic tabla multi-sample instrument ever attempted.

This library was recorded close and dry, in a medium wood and masonry studio. We covered every classical tabla articulation and a variety of variants and creative alternatives for maximum flexibility. We've also developed custom performance control and pitch stepping functionality, further expanding the musical potential of this library and allowing it to incorporate seamlessly with our companion library, Tonehammer Tablas Vol. 1: Loops. You'll also find a broad set of special effect and tuned melodic programs and mutations, as well as a mighty set of brand new morphable ambient drone instruments, crafted and sculpted from the heavily manipulated raw source recordings. This collection also features basic EXS support and a variety of other special features.
Tabla Vol. 2 "Multi" features
Studio (dry) recorded tablas.
14 unique tabla articulations, 20 unique bayan articulations and bend variation types, 10 unique tabla-bayan combo articulations.
Deep programming and scripting features providing unparalleled realism and playability.
Custom re-tuning and playability UI controls, with instant automation support.
Tunable traditional and realistic performance modes.
Large collection of bonus ambient droning instruments, with multi-layer mod-wheel morphing.
Bonus special effects & tuned melodic patches, opening up new musical possibilities for the tablas.
True deep sampling, with up to 10 velocity layers per note, with 10 round-robin variations per layer.
Key-switch pitch control allow shifting up to +/- 7 semitones.
Extensive read me (.pdf) install, patch and hint documentation.
Listen to exclusive (.mp3) interview Sameer Gupta & Mike Peaslee.
45 Kontakt patches (including one patch with everything / 2.321 samples), 28 EXS patches.
1.14 GB installed, 662 MB .rar download.
Sample resolution: 44.1Khz / 24Bit stereo .wav format.
Format(s): Kontakt 2, EXS24 and .wav.
Note: Native Instruments Kontakt 2 / 3 / 4 full retail versions required for all Kontakt instruments.
Note: Free Kontakt Player will only work for 30 minutes with this product. Full version required to remove this restriction.
Tabla Vol. 2 "Multi" is available to purchase for the introductory price of $69 USD until December 25, 2009 (regular price $79 USD). Both Tabla volumes are available in a bundle for $129 USD.
Tonehammer has also announced The Wintery Pond, another free sample pack as part of its Gnomehammer Celebration.
We captured a variety of percussive elements and effects by bouncing stones and ice over a frozen pond in a narrow canyon, high in the Rocky Mountains of Colorado. The results are quite surprising, as the sound waves travel over the ice and bounce of the canyon walls in very unusual ways. As the stones bounce away from the listening position, across the ice to the far side of the pond, the impact sounds are morphed into a series of spring-like pinging Doppler effected echoes.

There are 5 sub-categories: Pebble skittering, large rock skipping, small rock skipping, ice smashing and smashing/splashing through the ice. The patches load into "drum" mode by default. The decay/sustain has been shortened to allow tight percussive playing. Use the modwheel to extend the length of the sample all the way to full length, to hear the stones crossing the entire width of the frozen pond.

While this 214 Sample / 8 program / 118 MB library is well suited for use by sound designers and sfx artists, the advanced instrument programming should nonetheless allow for very unique and responsive playability as percussion and musical effect elements.
More information: Tonehammer