Toontrack Music has announced Toontrack Solo, a host application for Toontrack Music samplers providing stand alone operation, multi-instance operation and support for specialist MIDI controllers.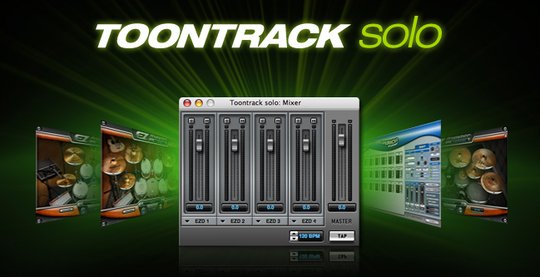 With support for ASIO and CoreAudio/CoreMIDI devices, a performer can optimize response from his preferred controller (keyboard controllers as well as from the majority of E-drums and Drumpads available on the market) with the use of factory presets and route up to 16 physical audio outputs to a mixer for real-time operation with minimal latency and the full flexibility of outboard soundshaping. Virtual Drummers can be layered/assigned to specific channels for triggering.
Toontrack Solo features
Stand alone operation of Toontrack samplers
Optimized for real-time, low latency operation
Full ASIO/Core Audio/Core MIDI support
Routable mixer with support for up to 16 physical OUT
Each instance can be assigned a discrete MIDI channel
Support for specialist MIDI controllers
Toontrack Solo is released as a free download for all registered users of Toontrack samplers before the end of october 2007.
Visit Toontrack for more information.