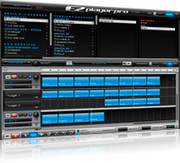 Toontrack Music has released version 1.0.5 of EZplayer Pro, a software tool that lets you organize and preview all the MIDI on your hard drive with the sampler of your choice.
Changes in EZplayer Pro v1.0.5
New Features:
Electronic EZX kit pieces support.
Map wraps for Steven Slate Drums 3.5.
Map wraps (update) for Addictive Drums 1.5.
Map wraps for Ocean Way Drums.
Platinum Samples 'Evil Drums' convenience map wraps.
The "User MIDI folder" is now included under the help menu.
Fixed in version 1.0.5:
Arranger tracks are no longer silent on recalling a saved project.
Accents should play back as expected when loading a saved file.
Drag and drop from the Browser to the Arranger should now work in Logic 9.
MIDI dragged from Sonar 8.5 into the Arranger could not be dragged out of it subsequently.
Headers are now skipped when clicking the arrows to step through MIDI in the Browser.
Shorthands are now generated when dragging from the Arranger.
Setting velocity in the Browser to -127 no longer leads to silence.
The tempo can no longer exceed 320 when clicking the up arrow next to the BPM field.
Dragging a groove to the Arranger with the "metronome" ON now respects the track's tempo.
Note 0 from a MIDI input is no longer assigned to "MIDI Learn Play" on start up.
Shift clicking a clip in the Arranger now correctly restricts playback to the kit piece selection.
Dragging files other than MIDI material into the plugin no longer leads to crashes.
A number of other random crashes after dragging MIDI inside the plugin have been fixed.
Crashes due to dropping a groove on top of another and then selecting "copy all" fixed.
Using the stretching tool on a clip set it as the "dragging groove" and caused crashes.
Other suspicious behaviours when dropping other clips on same track following above actions.
Removed creation of the MidiPath written to registry on launch as it was no longer in use.
IMAP map wraps transforms are no longer offset by 12 steps.
Drumcore/Kitcore wrapper name changed to reflect new company details.
EZplayer Pro for Windows and Mac is available for purchase for $49 USD/€30 EUR/£25 GBP.
More information: Toontrack Music