Toontrack has announced the release of Post-Rock EZX, a new sound library expansion for EZdrummer 2 recorded in Iceland's iconic Sundlaugin Studios.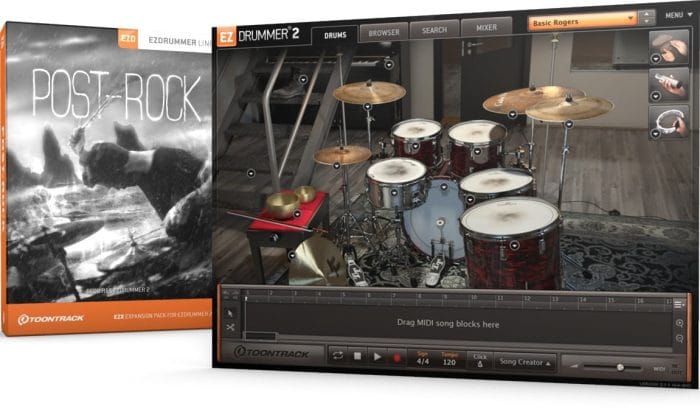 "Dramatic. A force of nature. Unpredictable and almost cinematic." When asked how to put words to the term post-rock, these were the first that came to mind for Birgir Jón Birgisson and Arnar Gíslason, engineer and drummer behind the EZX with the same name. And there is likely no better setting to capture the very essence of just that than in Iceland's Sundlaugin Studios. In an ever-shifting landscape chiseled from millions of years of volcanic lava, with a waterfall a stone's throw away and with a glacier stream literally running beneath it, there it sits on the outskirts of Reykjavik. And if you look out the window at the scenic wonder where extremes on opposite ends of the scale fuse and melt together into something untamed, wild and unpredictable, it's easy to understand why this is the ultimate backdrop for music with the very same dramaturgy. Welcome to possibly the world's most comprehensive palette of drums tailored for post-rock – kits fit for anything from the most subtle, open soundscapes to explosive outbursts and crescendos.

Located in Reykjavik, Iceland, the Sundlaugin Studios is probably one of the world's most remote professional recording facilities. It originally served as a bathhouse in the 1930s but later underwent a major acoustic conversion to Icelandic artist Sigur Rós' personal high-end studio complex. The empty swimming pool with its perfectly balanced walls produce a bright but still warm and reverberant tone unlike any other room. In here, the best microphones, outboard and gear have captured the likes of Sólstafir, Jon Hopkins and Spiritualized as well as several of Sigur Rós' own records. In addition to the four complete kits recorded using traditional drum sticks, this library includes felt mallet and brushed options as well as several extra snares, a large variety of cymbals and custom percussion pieces.
Post-Rock EZX features
Recorded at Sundlaugin Studios in Reykjavik, Iceland.
Four (4) complete kits sampled with sticks (Rogers, Tama, Yamaha and Sakae).
One (1) complete kit sampled with brushes, felt mallets and a "snares off" option (Sakae).
Eleven (11) mix-ready presets engineered by Birgir Jón Birgisson, covering a wide range of styles and moods.
Six (6) custom percussion pieces.
Includes a selection of MIDI drum grooves performed by Arnar Gíslason.
The expansion pack is available for purchase for 69 EUR.
More information: Toontrack / Post-Rock EZX