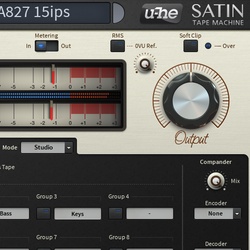 u-he has released public beta revision 1973 of its Satin tape machine effect plug-in for Windows and Mac.
Users familiar with analogue recording gear should instantly feel at home with Satin, and digital afficionados will also learn to love the magic of tape – Satin invites you to explore and find out for yourself.
Changes in Satin rev1973
Ultra-fast gui loading (we hope).
Denormals fixed on AAX.
Fixed CPU spikes on playback start.
Fixed too much RAM use.
No more excessive dynamic latency reporting.
Shift-mousewheel works on AU as well now.
The public beta is available to download for Windows and Mac from the u-he forum at KVR Audio.