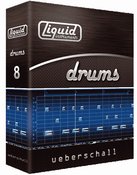 uebershall has released the 8th volume in the Liquid Instrument Series, Liquid Drums.
From the ueberschall website:
For the first time, you are able to move, pitch, stretch or even delete any single note of the snare, hihat, bass drum etc. loop without affecting the rest of the groove. All loops and single sound loops automatically adjust their tempo to your arrangement while remaining groovy and keeping their natural color. You can also try radical pitching and stretching to make everything sound more electronic. Unlimited control over the loops and multi channel layers, multiple variations, every tone of each drum instrument editable for total flexibility
Liquid Drums features more than 450 drum loop construction kits (over 2600 layered loops) incl. 100 breaks, intros and outros (over 640 layered tracks) in all styles and variations.
Features
control audio material as simply as midi data
change notes within the phrase
adapt tempo and key
select from a wide range of musical scales
control all parameters in realtime
pre-screening with adapted pitch and tempo
easily generate your individual setup
high quality Melodyne technology
multiple content management
edit start and ending
quick sound browser
all parameters midi controllable
save audio of original and modified loops
export to midi
sync to host
great bandwidth of styles
highest quality recording equipment
Liquid Drums comes as a 2 GB library DVD, for MAC/PC, RTAS, VST, Audio Units and StandAlone.
Visit ueberschall for more information and sound demos.