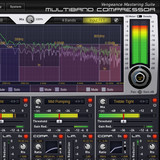 Vengeance has released Multiband Compressor, a new effect plug-in in the Vengeance Mastering Suite series.
Multiband Compressor features
Multiple band modes: 1, 2, 3 or 4 bands.
High quality filter models, from 6db to 96db – without any phasing issues.
Up to 4 independent compressors (one per selected band).
Hard-/softknee mode, optional autogain, optional autorelease for every compressor.
Graphical Ratio/Treshold curve display.
Up to 4 limiters (one for each band) + 1 mastering limiter (sum), also with autorelease.
New York Compression: MIX knob, to bring back some original dynamic.
Live waveform scopes for every channel.
Realtime FFT analyzer (in-/output overlay to compare dry and wet signals).
Unique new feature: the "DPC" (dynamic pattern compressor).
Anti distortion filters for ultra-short releasetimes.
Many cool presets included: ranging from complete masterings to special fx.
All parameters are automatable (host).
Copy Protection: elicenser USB Dongle required! (www.elicenser.net)
The Vengeance Mastering Suite – Multiband Compressor is available to purchase for PC and Mac (VST/AU) for $199 USD / 149 EUR / £135 GBP.
More information: Vengeance