Audio Plugin Deals has launched a sale on the Vibe Drums Bundle by MusicalSampling, a collection of three virtual drum instruments at 66% off the regular price.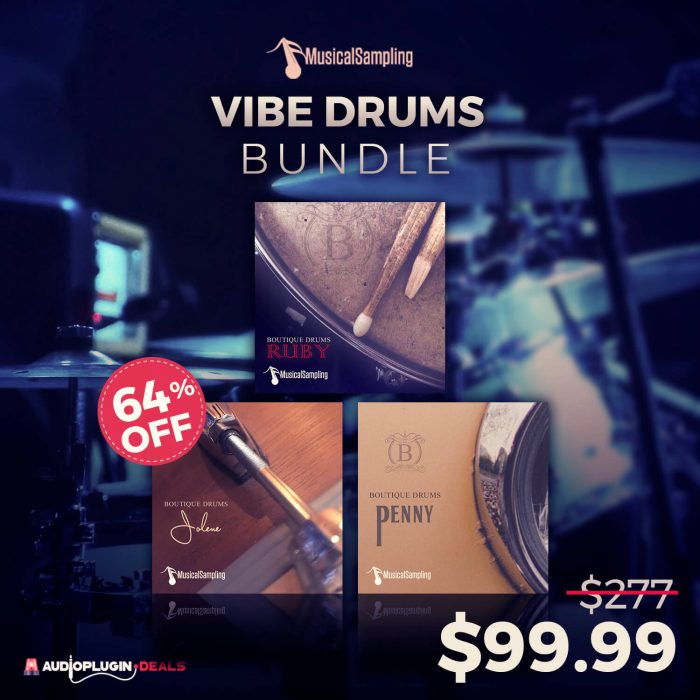 The bundle includes Boutique Drums Ruby, Jolene, and Penny.
The Vibe Drums Bundle includes a total of 24 unique mix presets and 22 GB of content that cater to a plethora of music styles, from 60's Rock and Metal to Indie and RnB.

All mix presets were carefully developed and mixed from scratch using an arsenal of processing tools, both hardware and software. This allowed the MusicalSampling team to dial in the precise mix and vibe we were looking for without being limited to Kontakt's range of processing plugins.

The result is a collection of interchangeable mixes that instantly work for a variety of genres with little to no post-production.
Vibe Drums Bundle features
22 GB of content (compressed NCW format).
37,000 samples.
24 unique global mix presets.
Interchangeable mix presets per drum group.
Simple and intuitive interface.
Live hi-hat grooves that sync to your DAW's tempo.
Crossfadeable hi-hat grooves (fades between various closed/open hi-hat states).
Groove Speed control (Half/Normal/Double).
Adjustable Humanization feature (Off/Tight/Natural/Loose).
Assignable Kontakt outputs for each drum group.
All presets carefully mixed and "baked-in" outside of Kontakt.
Recorded in 48khz/24bit.
Performed by Brian Scoggin (Casting Crowns).
Requires full retail version of Kontakt 5.8.1 or higher.
Originally $277 USD, the bundle is available for just $99.99 USD until October 14th, 2020. A purchase includes $19.99 USD in rewards which you can use for any product in The Shop.
More information: Audio Plugin Deals