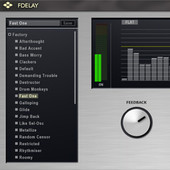 VirSyn has released version 1.1 of FDELAY, adding 64-bit support to the multi-band delay effect for Windows and Mac.
The multi-band delay machine FDELAY is an exciting tool for sound design and loop manipulation in realtime.
FDELAY features
27 band realtime multiband delay.
Frequency dependant level, delay time and feedback.
Linear phase precision filters for maximal transparency.
Tempo syncable delay times up to 6 seconds.
Meta parameter for quick access to rhythm variations.
Minimized latency (12 ms).
FDELAY is available to purchase for 99 EUR for the first 200 customers.