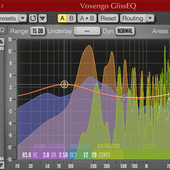 Voxengo has released version 3.3 of GlissEQ, a dynamic parametric equalizer plug-in for Windows and Mac.
The most interesting and unique feature GlissEQ offers you is its filters with dynamic behavior. Beside this wonderful "dynamic behavior", GlissEQ features real-time spectrum analyzer. Moreover, the spectrum of a track can be exported to any other instance of GlissEQ thus making real-time inter-track spectrum comparisons possible. This can help you free frequency ranges in one track to allow the instrument in another track occupying same frequencies breathe.
Changes in GlissEQ v3.3
"Show All Channel Meters" metering issue in 5.1 surround mode fixed.
Additional visual look variation settings added.
Smooth filter automation implemented.
Global precision settings persistence issue fixed.
Underlay color selection was removed – group's defined color is used now.
EQ range selector added (this may shift existing automation envelopes).
"Filled Spectrum" spectrum display mode switch added.
Oversampling filter type "Min-phase/Lin-phase" switch added.
Global "Auto Oversampling Level" 1X (off) option added.
Level meter's "density mode" improved.
Control surface crosshair option added (can be switched off in the global options).
Narrow-band sweeping mode crash problem fixed.
GlissEQ for PC and Mac (VST/AU) is currently available to purchase for $98.95 USD.