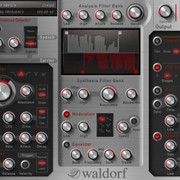 Waldorf has announced Lector, a new vocoder plugin.
Robot voices, whispering strings, talking drum loops, rhythmic pads, the resonant ringing of bells, dripping water – the possibilities are all but infinite. With a quick tweak here and there, the Lector turns any incoming signal into novel sounds and effects

Tremendously versatile, the Lector puts in your hands a sonic toolset for a wide range of diverse applications. Just about anything goes, from distorting the human voice to adding subtle harmonies to lead vocals and getting creative with movie soundtracks.
Lector features
3 to 100 band Vocoder.
Adjustable range of Analysis Filter Bank.
Adjustable offsets and LFO modulation of Synthesis Filter Bank.
3-band Equalizer with variable mid band.
Individual Compressors for Speech and Carrier signal.
Voiced / Unvoiced Detector.
Overdrive (types Tube, Diode, Clip).
Stereo Chorus / Flanger, 2 to 6 stages.
Stereo Delay, syncronizable.
Reverb.
Sidechain input (VST 3 and Audio Unit).
Carrier plug-in (VST 2).
16-voice Synthesizer (per voice):

Polyphonic, Monophonic or Free-Running.
2 Oscillators, waveforms sine, triangle, sawtooth, pulse with pulse width modulation, sample&hold, noise, single and multi sample playback.
FM.
Ring Modulation.
Portamento / Glissando.
1 Filter, types Lowpass, Bandpass, Highpass, Notch (12dB and 24dB), Whitening.
1 LFO, synchronizable, waveforms sine, triangle, sawtooth, square, sample&hold, noise.
2 AR envelopes.
Lector will be available for Windows and Mac (VST/AU).