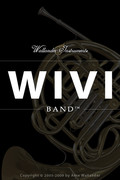 Wallander Instruments has released WIVI Band, an application for musical performance, running on the iPhone using the microphone as a wind controller, and an easy-to-learn piano fingering with 5-octave range.
WIVI is normally used by artists, composers and producers for everything from radio hits to Hollywood blockbusters. Now you can also enjoy the same expressive musical instruments which the professionals have had access to for years.
WIVI Band includes 15 expressive musical instruments: Trumpet, Trombone, French Horn, Tuba, Tenor Saxophone, Alto Saxophone, Flute, Piccolo, Alto Flute, Clarinet, Bass Clarinet, Oboe, English Horn, Bassoon and Contrabassoon.
WIVI Band is available through the iPhone App Store for $10 USD.
Visit Wallander Instruments for more information.