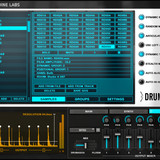 WaveMachine Labs has announced Drumagog 5, the next version of the professional drum replacer plug-in for PC and Mac.
One significant change is the completely redesigned GUI, designed to show more critical information when you need it and to be easier to manipulate. Additional elements of the Drumagog toolbox have been sharpened, including the triggering engine, sample editing and management, and the sounds themselves. We have also added brand new features, including one for Drumagog Platinum that will greatly simplify and improve how Drumagog works with virtual instruments; no more fiddling with MIDI conversions and routing.
New in Drumagog 5
Auto-Align 2.0 – A collaboration between WaveMachine Labs and Fraunhofer (inventors of the MP3 format) has resulted in a revolutionary new alignment algorithm. Simply the best triggering. Anywhere.
Direct Plugin Hosting – Play any virtual instrument from within Drumagog. Plugins like BFD2, Kontakt, and Superior Drummer are inserted directly into Drumagog to allow a virtually unlimited sample palette. (Platinum version only)
Redesigned graphic interface – Streamlined control and easier sample editing.
Support for multiple room samples – The Gog format now allows for different room sounds and mics. Simply dial in the amount of room desired.
Auto Hi-Hat Tracking – automatically detects the hi-hat pedal position (open/closed) in real time.
Drumagog will be available in the first quarter of 2010, pricing TBD.
More information: Drumagog