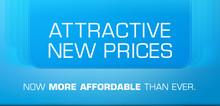 Waves has announced new prices for its products, and made various plugins from bundles available individually.
Waves is pleased to introduce attractive new prices across our entire product line. In an era when hit singles and Grammy® award-winning recordings are being created anywhere and everywhere, Waves plugins, bundles, and upgrades are more affordable than ever.

Now, all the plugins in our acclaimed Signature Series, The API Collection, JJP Analog Legends, and CLA Classic Compressors are available individually. In all, there are now over 80 Waves plugins available separately, with many under $100.
More information: Waves