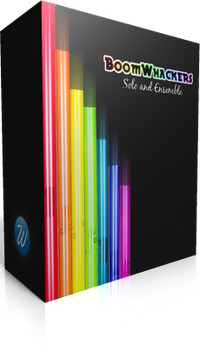 Wavesfactory has released Boomwhackers, a sound library for Kontakt and EXS24.
Boomwhackers are lightweight, hollow, color-coded, plastic tubes, tuned to musical pitches by length. Boomwhackers produce musical tones when struck together, on the floor, or against nearly any surface. Boomwhackers are often used by performance artists and other musical performance groups to add an element of spectacle. Music educators also use them extensively to teach fundamental concepts in rhythm, harmony, and melody.

We sampled 3 octaves of boomwhackers struck on a rubber surface. Recorded in stereo, 5 velocity layers and 5 round robins, both solo and ensemble versions (5 players).
Boomwhackers features
Solo and ensemble boomwhackers (5 players).
5 velocity layers.
5 round robin (repetitions).
3 octaves.
Stereo WAV files 44.1 kHz 24 bits.
For Kontakt and EXS24.
Kontakt 3.5 and superior, full version required.
723 MB installed, 620 MB downloaded.
The library is available to purchase for 9.95 EUR.
More information: Wavesfactory / Boomwhackers