WaveShaper has launched its website with the release of Monokkon and [UDS + EH], two sample packs by Sink.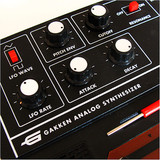 Monokkon Sample Pack is a collection of sounds made with the Gakken SX-150 analog synthesizer and the Korg Monotron.
The Gakken is a cheap japanese do-it-yourself analogue synthesizer. The Monotron is korg's smallest and latest analogue synth, using the same filter as the legendary ms-20. Both are fun pieces of gear to play with !

All the sounds in this kit was made using these nasty little plastic units (and even sometimes both at the same time by feeding one into the other using their external audio input). The overall sound is raw, bleepy and modulated : enjoy !
The [UDS + EH] Sample Pack is a collection of drum kit sounds.
This drum kit was made by processing some sounds from a rare russian vintage Marsh UDS drum synth by the nasty Electro-Harmonix Micro Synth. Enjoy some filthy analogue goodness !
The Monokkon and [UDS + EH] sample packs are available in two versions:
Free: mono, 16bit/44.1khz audio samples.
Pay-what-you-want: stereo, 24bit/48khz audio samples.
More information: WaveShaper