Waveshaper has announced the release of Brain 306, Vintage Drums and Synthax Error, three new sample packs.
WS306 | THE BRAIN IS ALIVE !

From disco to cold wave, electronic drumsynths shaped the sound of the 80s. But the Techstar 306 drum brain has a far wider sonic range than the classic lazer tom sound, thanks to its CLAP and SYNTH modules : deep kicks, punchy snares, raw analogue claps, sound FX, synthetic toms, and noise-driven hi hats are all here. The Brain 306 drumsample pack will give you that fat analog drumsynth sound !

This brand new pack works very well with electro, old school hiphop, house & minimal techno, dubstep, reggae and, of course, disco music.
VINTAGE DRUMS | Vintage vibe and character for modern productions

Vintage Drums Vol01 features more than 240 one-shot vintage sounding hand-picked acustic drumsamples, recorded and edited with love to be production-ready with a warm tone and characterful flavour. The sound is rich and expressive, old-school but great for modern music.

Vintage Drums Vol01 is tailored for a wide array of genres: dubstep, soul, funk, footwork, hip hop, trip hop, pop, rock, dub, trap, crunk, jungle, skweee, drum & bass, library music, rock…
SYNTHAX ERROR | Same player shoot again

Glitchy and nasty, the Synthax Error Vol01 sample pack features more than 140 one-shot drumsamples, and, as you might have guessed, clean is not its nickname !
Mangled, stretched, bitcrushed and distorted, various drum machines and synthesized sounds received a special treatment for some added sonic filth, dirt and corrosion.

The digital and proud edge of this sample pack will easily find its way into your electro, edm, house, grime, idm or dubstep productions. It also feels at home with footwork, trap, jungle, skweee or drum & bass.
Waveshaper has also announced RetroPhlex, a drum sample pack inspired by the sounds of early 90s braindance, electronica and house, featuring electronic sounds coming from analog synths, 12bit samplers and grainy reverbs.
It sounds both futuristic and retro, lofi and punchy, smooth and gritty. It should fit well in your music production, whatever genre it is !

This "surveyware" drumsample pack features 48 one-shot stereo WAV samples, in full 24-bit/48kHz glory ! You can download it for free for a limited time by replying to a (very) short survey.
Furthermore, Waveshaper has announced that four new drum sample packs are now also available as Kontakt versions. Monokken, MR-10 (Grey Matter), Stix305 and Aluminium / White Metal got converted into Kontakt friendly instruments with enhanced features (filter, decay, dirt, tune, etc).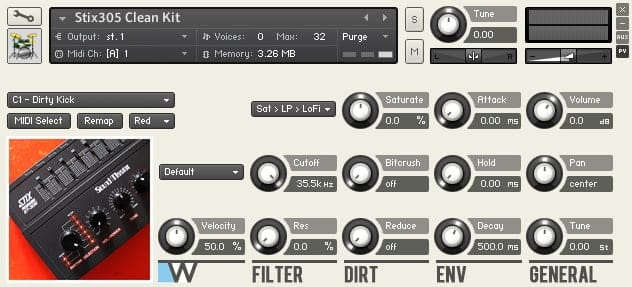 Buying the drum sample packs will give you access to both the original WAV files and the Kontakt instrument for an additional $1 USD.
More information: Waveshaper