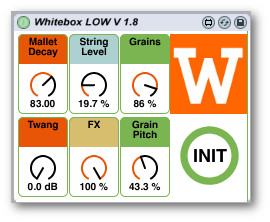 Whitebox Synth Makers has released the Max Pack, a collection of Max for Live devices.
This Pack consists of 8 inventive Max for Live synths ranging from rich pads to bright marimbas to atmospheric soundscape creators.

Each device is essentially a synth. All have built-in effects for tweak-ability while
some have effects you can't touch unless you really want to take the things apart.
Max Pack features
Pixiphone: ambient instrument that models a child's toy.
Malletbox: ambient percussive instrument with a user-recordable buffer.
Spotfield: designed for the musician who is either in a hurry, bored with tweaking parameters and/or extremely lazy.
Low: piece of reverse-engineering in the same mode as Ableton's ambient and evolving instruments.
Dialsynth: superfast one-dial call-up of 24 pre-written synth presets ranging from rich pads to quirky leads.
Baconfist: turn any sample into a synth.
8-Box: ambient synth with 8 pad tones plus Reverb, Attack, Release, Cutoff and Spectral Delay.
Ambibell: ambient bell-tone synth that incorporates Mormo's Pitch Drop for surprising slide effects behind the ongoing play.
The Max Pack costs $8 USD. Live 9 and Max 6 compatible.
More information: Whitebox Synth Makers