I have been planning to do another music production contest for a while now, but moving house and having a new addition to the family meant I have had very little spare time. So I am pleased to still get things going before the turn of the year.
The theme for the contest is "Expectations". With 2012 around the corner I think it should be a good inspiration.
The idea of this "sample remix" contest is to create a song using the sample pack created specifically for this contest. No other instruments (virtual or real) are allowed, no samples, recordings, or other sound sources. Just the samples in the contest pack.
I know this is quite a limitation, but hopefully one that will spark your creativity.
All the sounds in the contest sample pack were made exclusively with Rob Papen plugins. I tried to provide a good variety of loops and sounds so you have something to work with.
The download includes a total of 120 samples (24bit/44kHz): 33 melodic loops and 87 single shot sounds (36 melodic, 41 perc & 10 sfx). The archive is in RAR format. If you experience difficulties opening this file you can try the slightly larger zip version here.
Expectations contest sample pack — Download size: 84.42 MB
Note that the sample pack is *not* some kind of connect the dots construction kit so you are allowed (and encouraged) to chop the samples up, process them to bits with effects and make them your own.
The deadline for submitting your entry is January 16th, 2012, 11:59pm CET. Winners will be picked based on quality and originality. A few days later the winners will be announced.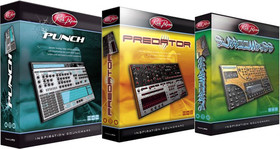 So what can you win?
Since all the sounds you are going to work with were done with Rob Papen plug-ins I thought it would be fitting to have them as contest prizes as well.
I am pleased to say that Rob has generously donated the following prizes:
1st prize

: Punch, SubBoomBass and Predator

2nd prize

: SubBoomBass and Predator

3rd prize

: SubBoomBass
Many thanks to Rob for offering these great plugins!
Contest rules
You may only use the samples provided in the contest sample pack. No other sound sources are allowed. However, you may process and manipulate sounds any way you want. Get creative!
Submit your entry in mp3 format (minimum of 192kbit) per email to contest@rekkerd.org before January 16th, 2012, 11:59pm CET.
One entry per person is allowed, you will receive a confirmation of your submission.
Your entry should be composed specifically for this contest. By entering, you grant permission for your track to be published at the rekkerd.org website, through SoundCloud.
Prizes will be granted at the discretion of the rekkerd.org voting committee. There may be additional prizes for the runners-up.
Contest rules subject to change. If you have any questions feel free to contact me or comment on this post.
Contest entries
The submitted tracks will be listed here, ordered by date of entry.
Part 2:

Part 1:

The winners
I now remember why I prefer to let you guys pick the winners… There were so many great quality & original entries, it was almost impossible to narrow the shortlist of favorites down to just three.
Alas, in the end only a few can take away the prizes:
Noizefield – Expect the Unexpected
Crystal Craft – Prince Of Egypt
David F (AKA Totolitoto) – Arithmetic mean
Thanks to everyone who took part in the contest. I hope you had a good time making music, and perhaps you will join us again next time.
Cheers,
Ronnie